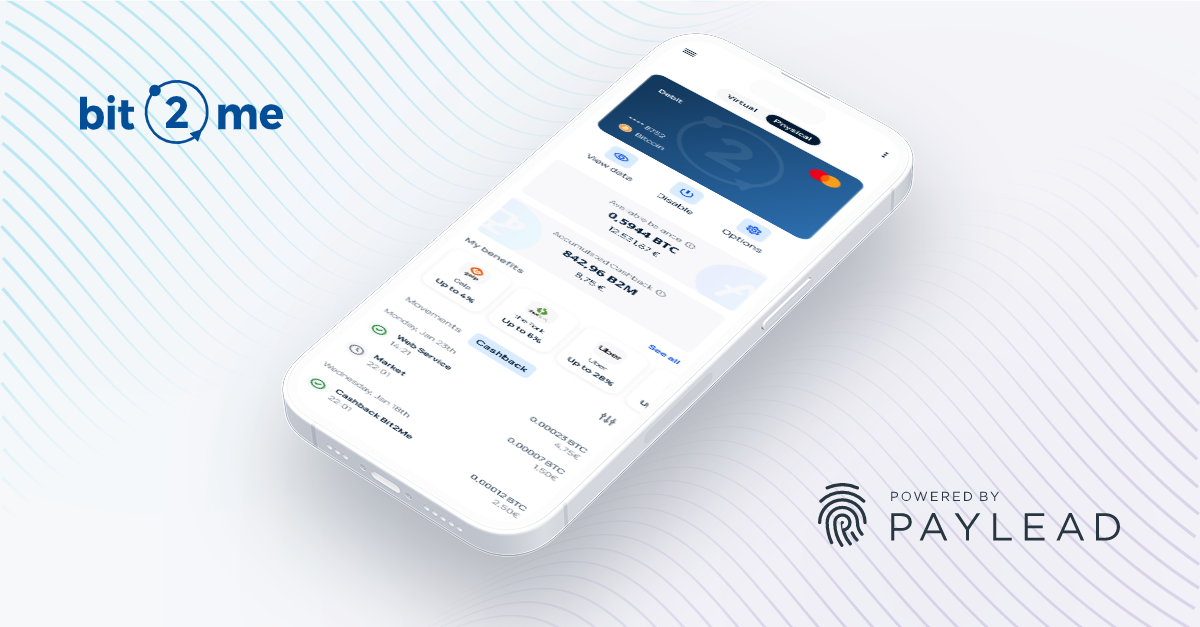 Bit2Me partners with PayLead to launch their automatic crypto assets reward program
Bit2Me, the leading Spanish cryptocurrency exchange, picked PayLead to bring a seamless reward experience to Bit2Me Mastercard cardholders. With the integration of an automatic cashback solution, Bit2Me will offer a frictionless cashback experience for in-store and online purchases across Spain.
Earning crypto while spending it

Bit2Me users will earn $B2M tokens for their purchases at participating retailers when using the Bit2Me card, issued together with Mastercard. PayLead's white-label technology will power the reward program, offering Bit2Me users rewards with leading merchants across retail sectors. Implemented directly into the Bit2Me app, users can access the reward program after giving their informed consent in a few clicks, and can start browsing a selection of tailored offers.

PayLead's cookieless reward system ensures that users are never tracked by third-party cookies at any point throughout the purchase journey, thus making the process completely automatic. With access to the payment data of consenting users, PayLead retrieves, cleans, and enriches data received from transactions and attributes rewards to users.

Juan Luis Pascual,Payments Director of Bit2Me, believes this program will fit seamlessly into the Bit2Me ecosystem and bring true value to users.
"We were searching for a partner that could not only provide the best possible reward experience to our users but ensure that they are truly rewarded for their daily purchases. This partnership not only gives our clients access to offers from leading retailers but a means to earn crypto assets when making purchase decisions."

Jacquelin Becheau La Fonta, CoFounder of PayLead, said
"I'm excited to see PayLead venture into the world of cryptocurrency with this partnership which ensures users automatically receive crypto assets through a frictionless reward experience when making a purchase. Everything we do at PayLead is related to simplifying the purchasing experience for the end consumer who in this case receives cryptocurrency as a reward."

Payment Marketing meets crypto

Having established partnerships with banks and fintech partners across Spain, France, and Belgium, This marks the first collaboration PayLead has entered with a crypto exchange. PayLead has created a Payment Marketing platform that serves a two-sided ecosystem where banks and their clients anonymously leverage their assets, and merchants are provided with a trusted environment that gives clients a seamless reward experience.
Interested in learning more about our automatic reward solution, enriching purchase experiences, and fostering loyalty for your business with PayLead? ​ Schedule a call
---