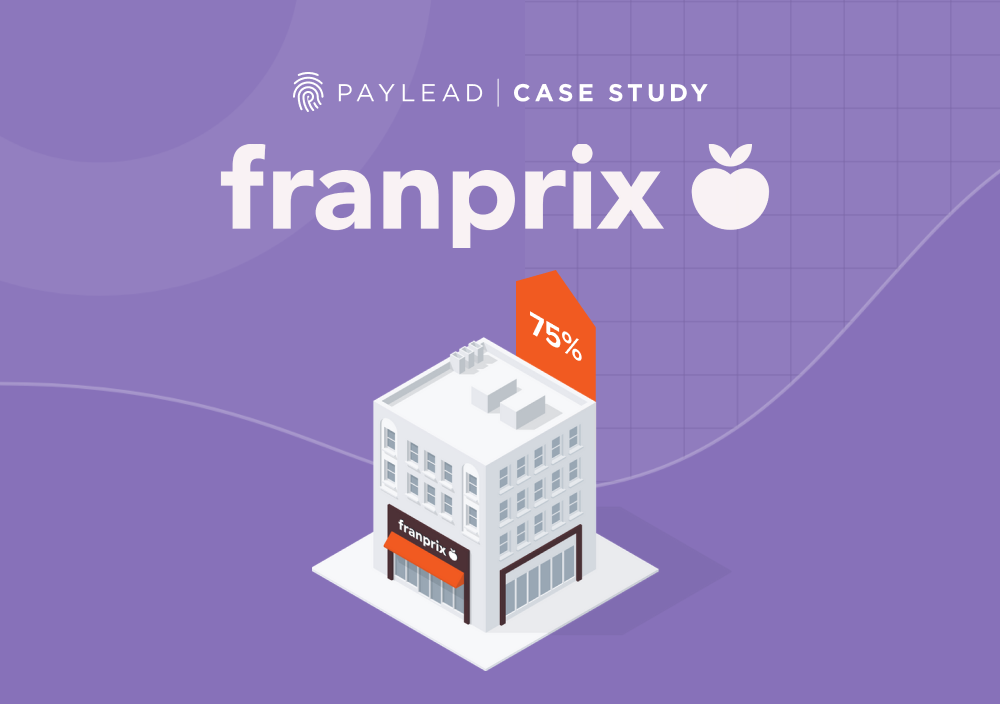 Franprix & PayLead: Using Payment Marketing to increase brand loyalty
After winning the Drive-To-Store Trophy in LSA's Cross Canal 2020 awards ceremony for our ability to drive customers to store, learn how Franprix and PayLead came together to increase loyalty amongst a fickle customer base.
Franprix is synonymous with convenience, offering city dwellers a supermarket where they can quickly purchase their groceries and other essential household items. With more than 900 stores in its network, the brand has brought its ability to adapt to any neighbourhood across Ile de France, to Marseille, Lyon and other city centers.
When they sought a new way to increase loyalty amongst their existing customers and acquire new ones, Franprix prioritized finding a way to provide added value to their daily shoppers while ensuring a best in class user experience. They turned to PayLead, and within a few weeks, launched two campaigns to address their needs in key markets such as Paris.
Increasing loyalty when it's hard to find
Despite the unmatched network in the region, the volatility of Franprix's customer base and that of the supermarket vertical in general is no easy feat to tackle, with 77 percent of consumers frequently making purchases at competing brands throughout the year.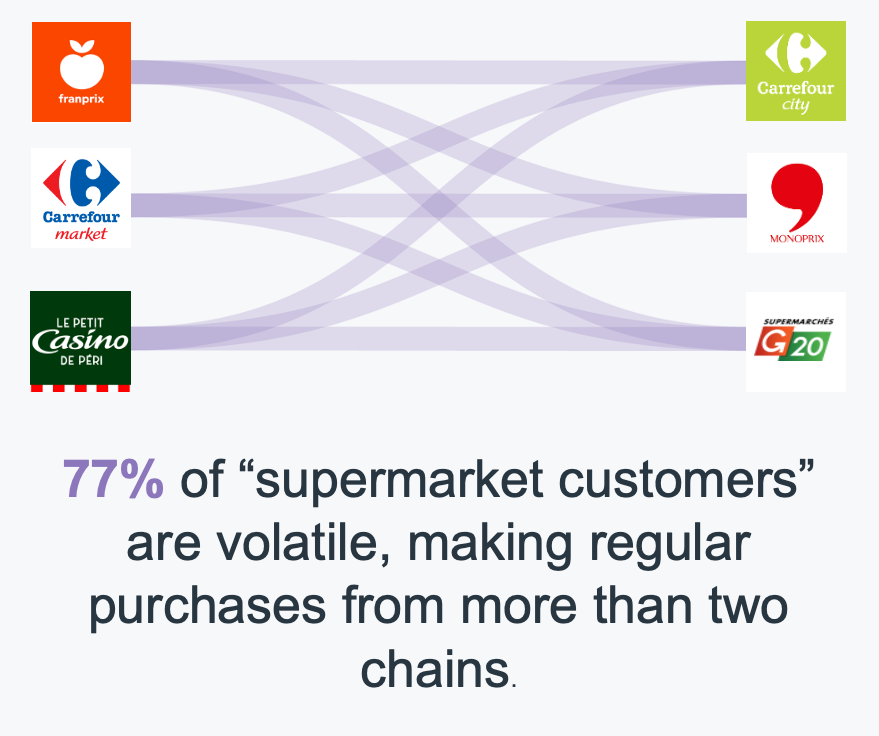 Together we aimed to increase loyalty and acquire new customers with Payment Marketing campaigns deployed on PayLead Cube.
With Paylead's ALO technology Franprix was able to identify customers, meeting the specific criteria determined by both teams, to provide reward offers to potential shoppers in a defined geographic zone. Unlike ads, these offers are linked to an account, rather than an ad that must be clicked on. The offers are made available to loyalty program members from various banks who can partake in the offer and receive cash rewards instantly when purchasing at participating locations.
Once a purchase has been made, the end-user receives an instant notification notifying them they have received a cash reward for purchasing at Franprix as seen in the video below.
Unlocking customer loyalty
After establishing a CPA of 3.75% for both campaigns, we started to track performance and saw an increase across several KPIs, which crystallized once both campaigns concluded.
The existing client campaign proved to be a success seeing a substantial 42 percent rise in monthly spend, and an average ROAS of 12.9€.
On the acquisition front, we were able to incentivize clients and increase foot traffic in physical locations by activating 30 percent of the audience and increase Franprix's wallet share amongst these new customers by 75 percent.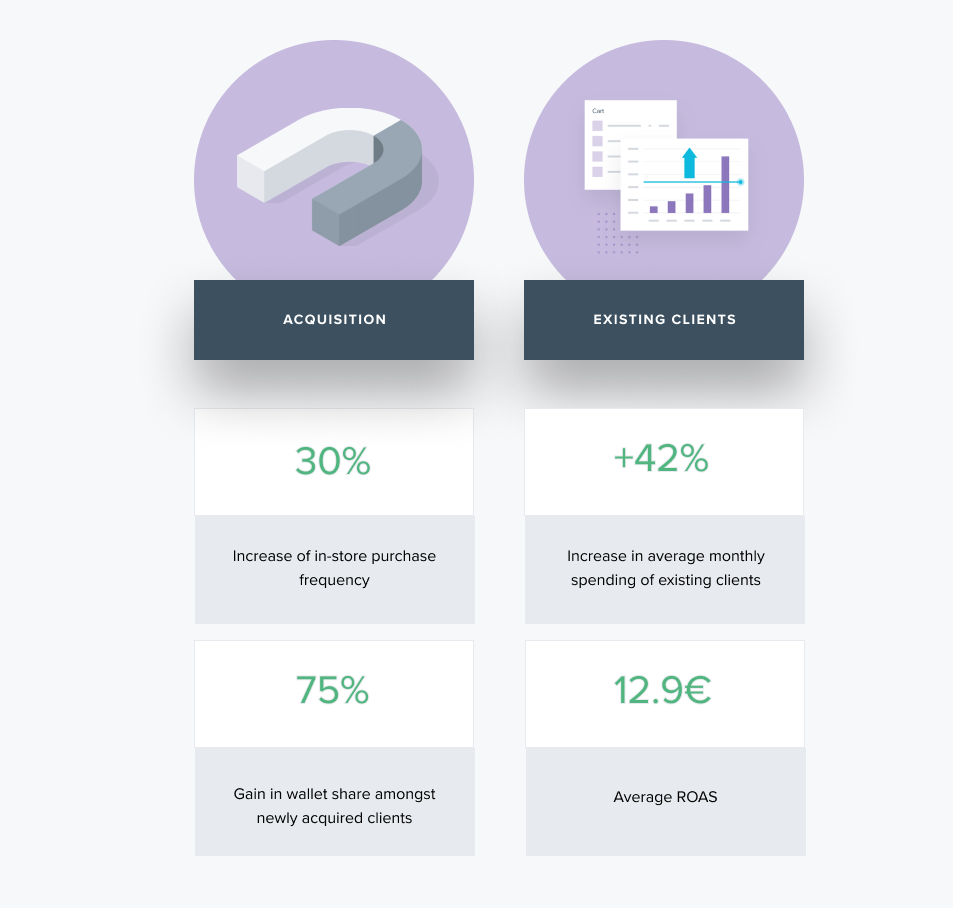 Getting an edge on the competition
The increase in wallet share from newly acquired clients may have delivered the biggest impact. When comparing the period before the campaign versus the period observed 140 days after the campaign launch, the 75 percent boost in wallet share from was notably taken form some of Franprix's biggest competitors.
Delivering more than just results
While any marketing initiative's goal is to see results that generated sales, being able to precisely measure this performance and determine attribution helps tell the whole story behind a campaign. Our ability to attribute purchases to a specific marketing effort helps uncover essential info and ensures that merchants do not pay twice to activate the same client.
"This is precisely what PayLead's technology brings us: PayLead not only guarantees that we don't pay twice for the same sale thanks to its attribution technology, but it's also the most advanced solution we know of in terms of bank data analysis, which can prove incrementality."
Virginia Fernet - Director of Client Marketing, Franprix
Discovering new business opportunities with transaction data
After taking a closer look at the transaction data of Franprix customers and comparing it with the general population, we uncovered an eye-opening trend of increased spend on bio-organic or more commonly referred to as simply "Bio" products. The data found that 24 percent of Franprix shoppers consumed bio brands compared to the 6 percent seen in the French population.
Naturally, bio or organic products are slightly more expensive and, as a result, increase the average basket of "Bio" consumers; however, what drew our attention was the revelation that "Bio" clients at Franprix had a 28 percent higher purchase frequency than those who don't purchase "Bio" brands.
With these insights on hand, Franprix can aptly service a budding customer group amongst their shoppers by providing them more products that they enjoy while boosting performance.
Creating a winning partnership
Together with Franprix, our technology won the "Drive-To-Store" trophy at this year's Trophées Cross Canal ceremony organized by LSA, celebrating its capacity to reward online purchases as well those made in physical stores, as is the case with Franprix.
Libre Service Actualités or LSA is one of the leading weekly professional French magazines dedicated to providing the latest news and analysis of trends in commerce, retail, and consumption in France.
The annual ceremony brought together a jury made up of the largest players in the retail space as well as the Editor in Chief and Head of Section of LSA.
"Cash reward technologies are more frequently seen online; however, PayLead's technology also allows for rewards to be earned in-store, which pleased the jury. The tool [ALO] is a means to capture clients, within proximity of a store, that are more likely to make purchases with several brands, and increase their brand loyalty".
Clotilde Chenevoy, Head of Section at LSA
Loyalty solutions for the future
Today PayLead's ALO technology and Cube interface remain a valuable tool in Franprix's marketing arsenal. Together we continue to not only carve out a new acquisition channel and build customer loyalty in a hyper-competitive market but see our collaboration receive applause from the retail community.
Interested in learning more about Payment Marketing, great customer experiences, and growing your business with PayLead? ​ Schedule a call
---