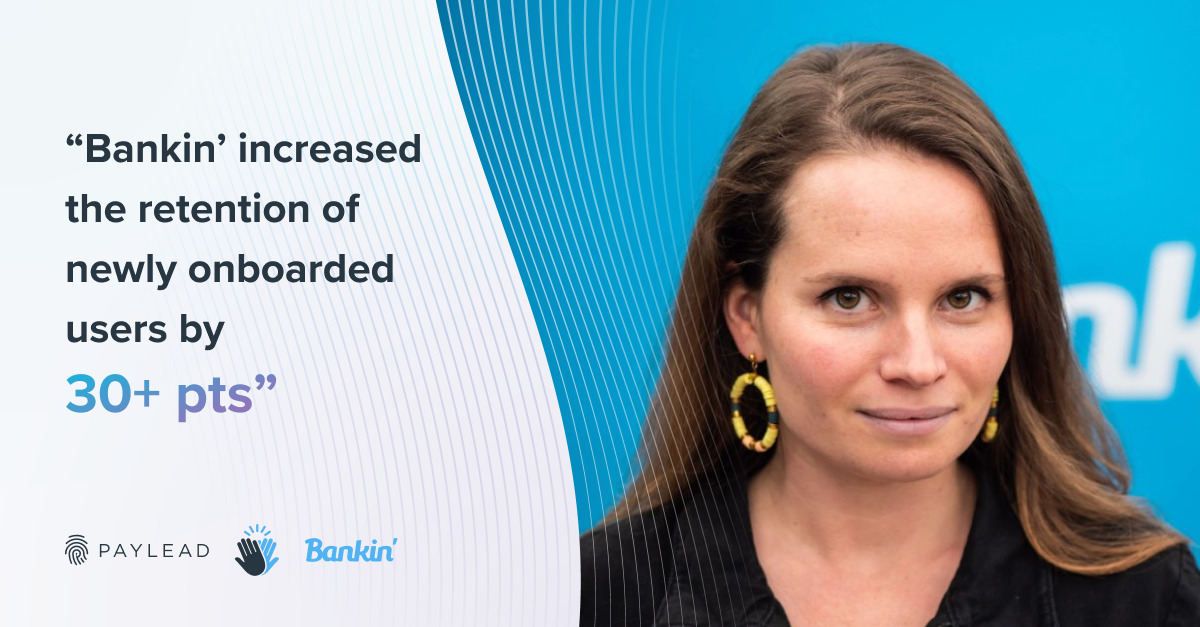 How Bankin' increased customer engagement with PayLead
Bankin' explains the benefits of implementing a personalized and automatic cashback program to a rapidly growing audience.
+30pts

Increase in customer retention among onboarded users.
500,000€

sent to Bankin' customers with PayLead
+211%

more visits to the purchasing tab
48%

of new users have registered for the program
Bankin', a fintech company founded in 2011, is a free everyday app for better account management. It helps save on daily purchases, save more, and achieve daily life goals.
Since helping users manage their budgets and achieve financial goals is its priority, it was an obvious next step for Bankin' to offer them savings on all possible purchases.
They needed an automated solution that helps users improve their purchasing power, while also ensuring loyalty and retention. The search for a feature was a significant challenge, which proved to be a success that attracted more than a half-a-million users currently enrolled in the automatic cashback program provided by PayLead.
The objective
Expand the range of services to reinforce the brand promise: help users better manage their finances with an innovative and engaging feature that impacts customer retention and purchasing power.

Launch an automated solution that overnight would present hundreds of major brands on which users could save and help their purchasing power.

"We hoped to have +20% of our new users subscribe as soon as they register on Bankin'. We have far exceeded our goal." - Raphaëlle Dessein - Head of Retention at Bankin'
The result
Nearly half of Bankin' users have activated the cashback feature to trigger automatic earnings whenever they make an eligible purchase with a partner brand without doing anything.

Campaigns associated with brands have the highest engagement rates. Who doesn't like receiving a notification that says, "X€ amount of Cashback arrived in your account!"?

"Since the start of the partnership, we are proud to have paid out €500,000 to our customers through PayLead."

Thanks to PayLead, Bankin' has found a comprehensive solution that delivers on key aspects of its strategy:

- Generating in-app traffic and overall user engagement through browsing the merchant catalog.

- Driving traffic generated by associated communications.

- Improved retention: an onboarded user has a +30 points higher retention rate than a non-onboarded user, which is colossal!

- Generating a new source of revenue for users and for Bankin'.

- Keeping Bankin's brand promise to help its users better manage their finances.
PayLead was the perfect, easy-to-implement solution, complementing Bankin''s already strong positioning to help French people manage their day-to-day lives more effectively, by reducing their bills, saving more every day, and realizing their life projects.
The flexibility of PayLead's APIs enabled Bankin's technical teams to integrate the cashback solution seamlessly into the heart of the application, providing users with personalized offers and over a hundred major everyday brands to help French consumers manage their purchases more effectively.
"With PayLead, we've created a wow effect overnight by unveiling a new feature that contains over a hundred brands across all sectors, sending money back into their account, effortlessly, every time they buy from one of these brands. It's rare to succeed in creating a long-term wow effect... With PayLead, we can truly say that we help our users save money on a daily basis." - Raphaëlle Dessein - Head of Retention at Bankin'
From budget management to increased purchasing power
The year 2022 was marked by the persistent cost-of-living crisis, which penalized the purchasing power of many French people.
PFMs have therefore never been so relevant and necessary.
Bankin' sensed the crisis and decided to find a solution to help its users save on their day-to-day purchases, thus taking an upstream approach by rewarding card-linked transactions on the app.
"To help them save more often, you need to be able to guide them to the right deals, which can be very time-consuming and tedious, so we looked at how we can achieve this... integrating an automatic cashback solution was the obvious solution to help them save effortlessly," Raphaëlle Dessein points out.

Optimizing engagement with a seamless experience
After the POC (Proof of Concept) to measure the appetite of their users was complete, Bankin' officially launched the Cashback functionality within a tab dedicated to Purchases. Because better budgeting starts with counting what you put in your shopping basket.
This feature, anchored in their menu, helps its community make smarter purchases. The tab displays the current offers, the boosted brands, and also includes a search function. Aside from browsing offers, here, they can also see their entire cashback history and the total amount earned. A nice nest egg for some. Bankin' transfers the money directly to the user's bank account, and insists that "it's real money!" Not vouchers or coupons.
After the POC confirmed user interest, Bankin' continued to iterate on design and integration improvements to optimize its offer page visit rates and make the page dedicated to brands more attractive.
"We need to keep things moving and constantly evolve, otherwise users won't come back, and that's a shame - they can really save on every purchase thanks to automatic cashback!" notes Raphaëlle Dessein.
These improvements resulted in +211% more visits to the purchase tab by positioning it in the main menu, and created a lasting reflex to seek cashback offers and redeem earnings (+45% of redemption requests after integration in the menu).
Want to know more about our automatic cashback solution and how you can enrich your customers' shopping experience? ​ Schedule a call
---