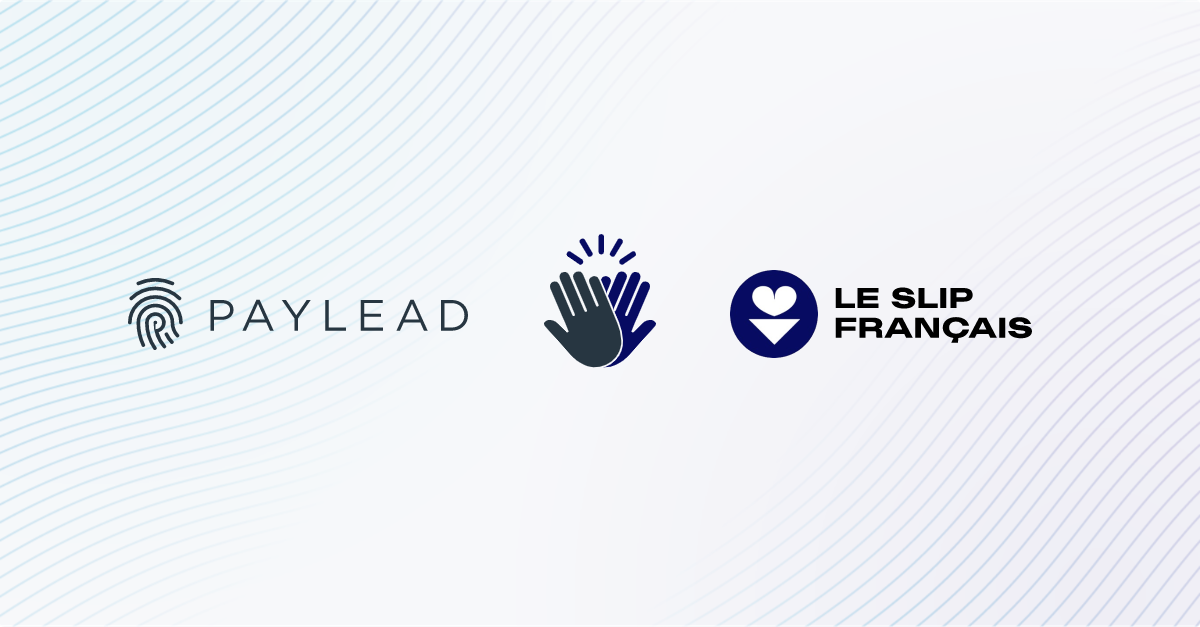 How Le Slip Français continues to see a 7x return on investment with payment marketing
With a growing network of retail locations to accompany its e-commerce channel, Le Slip Français has quickly created an omnichannel strategy to serve its customers as they continue to grow and branch out of the undergarment industry.
After working with PayLead, they discovered a tool that could support their omnichannel strategy and bring in sales from new and existing customers.
The challenge
Pre-PayLead, Le Slip Français had limited insight into the spending of their customers outside their stores and wanted to see which competing brands they shopped with most.
The solution
After consulting our team and conducting an analysis, Le Slip Français used the actionable payment data insights to create a loyalty campaign that rewarded new and existing customers when purchasing online or in-store.
The results
With PayLead, Le Slip Français uncovered market insights that identified where and how much their customers spent with competing brands. Following the analysis, payment marketing campaigns leveraging this knowledge were launched, which generated a 7x ROI and saw 23% of rewarded clients return to make another purchase.
7x

return on investment
23%

of clients repurchased during the campaign
29+pts

increase in wallet share
90%

of clients reached never purchased with the brand before PayLead
Unlocking insights into the competitive landscape

One of Le Slip Français' obsessions is following the data. Thus the priority was conducting a study determining what data-driven decisions to take. Dally Kane, Acquisition Manager of Le Slip Français, went into the discovery phase hoping to get answers to the following questions regarding the purchase behavior of consumers in the market :

1. Where do my clients shop elsewhere in the sector?
2. Are they spending more with my competitors?
3. What percentage of the audience has never purchased with Le Slip Français

With access to pseudonymized payment data, PayLead was able to uncover the answers.

After conducting the study highlighting spend among banking audiences in France, it was clear that there was a huge acquisition opportunity. It was also uncovered that competing brand Lacoste accounted for 35% of client wallet share among the brands studied, including DIM, Eminence, and Calvin Klein.
The data provided not only answered Dally's initial questions regarding her competitors but gave her insight across the sector. Dally noted that:
"With PayLead, I have the full picture of my client's spending with competing brands across the garment and undergarment industries."
Turning insights into real results

To jumpstart acquisition and reward existing customers, Le Slip Français crafted an offer with a 14% eligible to all users in PayLead's banking audience, thus boosting their visibility across the banking apps of all our partners.

The campaign had an immediate impact and resulted in Le Slip Français winning 29 points of wallet share by the end of the campaign, with a majority coming directly from Lacoste customers, followed by DIM (-2 pts) and Eminence clients (-1 pts).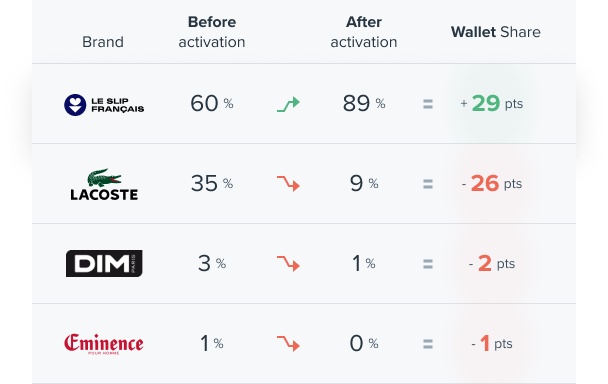 Since launch, Le Slip Français has generated a 7x return on investment from the campaign and has seen 23% of activated clients make another purchase after their first reward.

When looking at the reach of the offer, and its ability to touch new clients, campaign analysis found that nearly 90% of the clients activated had never purchased with Le Slip Français.

After two years of collaboration, PayLead continues to uncover payment-based insights for Le Slip Français, that help guide their acquisition strategy. Dally which aims to constantly improve acquisition performance through innovative strategies and tools highlighted:
"Payment data has helped us make data-driven decisions regarding our acquisition strategy with market intelligence we didn't have before".
Thanks to PayLead, Le Slip Français now has not only the insight but the means to target and activate clients based on their purchase history.
Interested in learning more about Payment Marketing, great customer experiences, and growing your business with PayLead? ​ Schedule a call
---