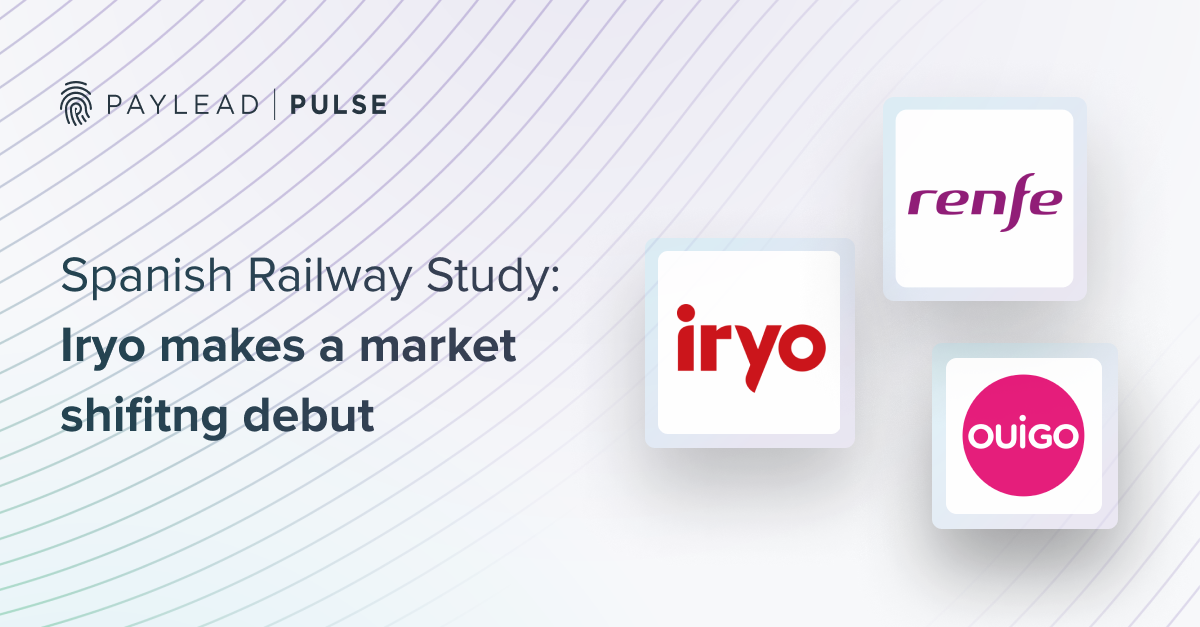 Iryo's introduction into the Spanish market is starting to be felt
New competition has changed the dynamic for Spain's high-speed train travel market.
November 2022 not only marked a historic entrance into the Spanish market by Iryo, whose Italian co-owners TreniItalia look forward to driving competition, but it's also the first time a European country allowed a third entrant into their domestic train market. The increase in options has shifted consumer spending and has seen Iryo make its presence felt in a country where only Spanish and French operators once went head-to-head.

How has consumer spending changed?
In March, only four months after their arrival and leading up to the anticipated holy week vacation, Iryo brought in 12% of consumer train card spending. Since November, competitors Renfe and Ouigo have seen their wallet share decrease considerably, with the Spanish and French operators losing -4 and -5 pts, respectively.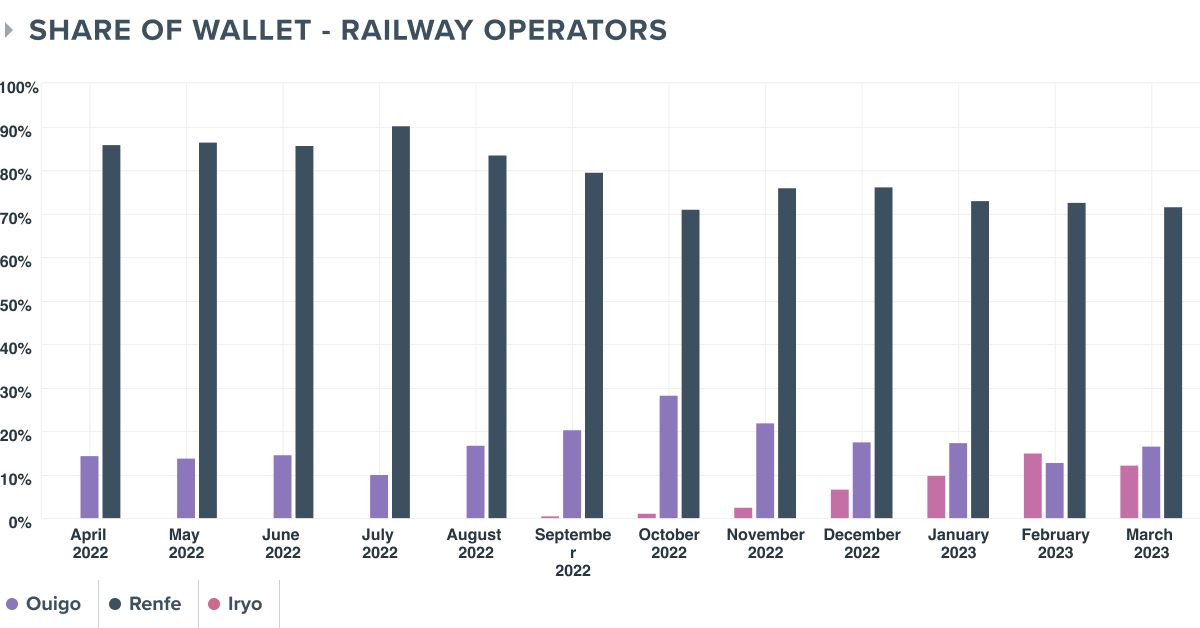 Renfe, including the Avlo brand, remains far and above the leader in the industry with 70% of the market. Still, Iryo's impressive entrance has seen them quickly make up ground and now shares roughly half of the remaining 30% of the Spanish train travel market. As the year unfolds, the actual trend to follow is whether Iryo overtakes Ouigo and claims its place as the second-biggest player within their first year.

What's more? Iryo also attracts a client base that spends more, with the operator seeing a 40% higher average ticket size compared to Renfe and Ouigo clients. It is important to note that this study uses card transaction data, and Renfe AVE and Avlo currently share the same brand information when purchasing and are considered as a single brand for the purposes of this study. That said, it is possible and likely, that the discount pricing of Avlo's tickets is bringing down the average spend of Renfe's clients.

This increase is may be due to the attraction of a clientele searching for additional luxuries in Iryo's business class service. However, Iryo clients also spend more when using competing services from Renfe. On average, an Iryo customer pays €60 for a train ticket with Renfe, which amounts to a substantial €14 more than Renfe clients.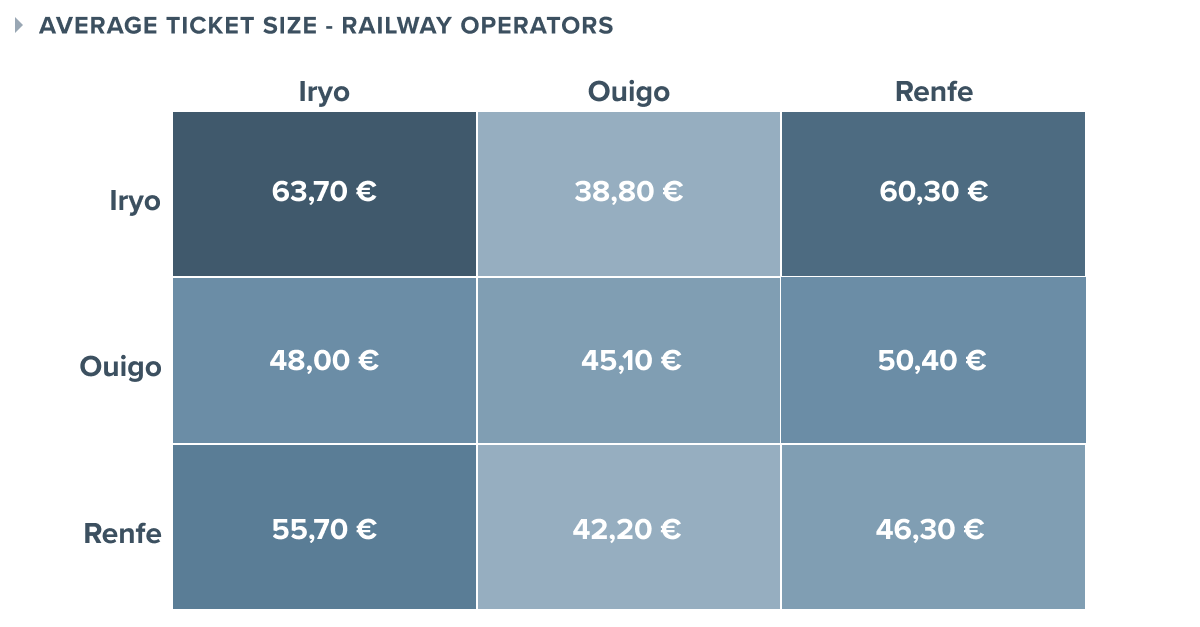 When we look at how much they spend on air travel, we also see a considerable gap between Iryo and Renfe's customers. Iryo clients spend €98 on average compared to the €93 and €90 paid by Ouigo and Renfe customers across Spain.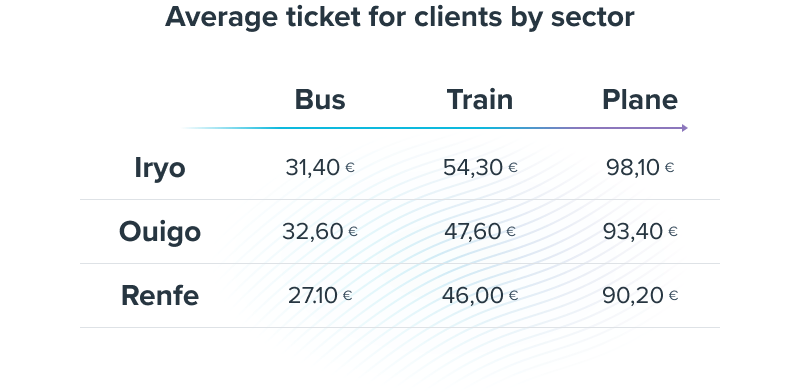 It seems like Iryo's stellar debut in the market has not only shifted market share but clearly defined a customer base willing to pay more for a more upscale and flexible travel experience, such as the one on offer from Iryo.



Ouigo clients are the most tempted by Iryo's service

When looking at the volatility of Ouigo and Renfe clients, meaning in this case, the percentage of clients that have used a competing service since Iryo's arrival 5 months ago, 12% of Ouigo clients have purchased an Iryo ticket at least once. While fewer Renfe clients have made the jump, with only 4.6% buying an Iryo ticket, they also represent a much larger customer base than that of Ouigo's. The difference in volatility could all boil down to the number of shared routes that Ouigo and Iryo have and the fact that Renfe operates train routes across all of Spain.

Air travel is still the most popular choice for holy week vacations

In March, air travel accounted for more than half of all purchases in the long-haul category and was +2.3 points higher than in January and 2.6 points more than the percentage it accounted for in March 2022. Air travel remained the consistent leader in the three months leading up to the holy week. With 39.5% of all transactions in March 2023 and roughly 40% of the market in Q1, rail travel remains the biggest alternative to flying above buses which only accounted for 7 to 9% of transactions. Bus travel actually saw a dip compared to last year, when ticket sales brought in 10 to 12% of all transactions and fell by 4.7 points in March 2023.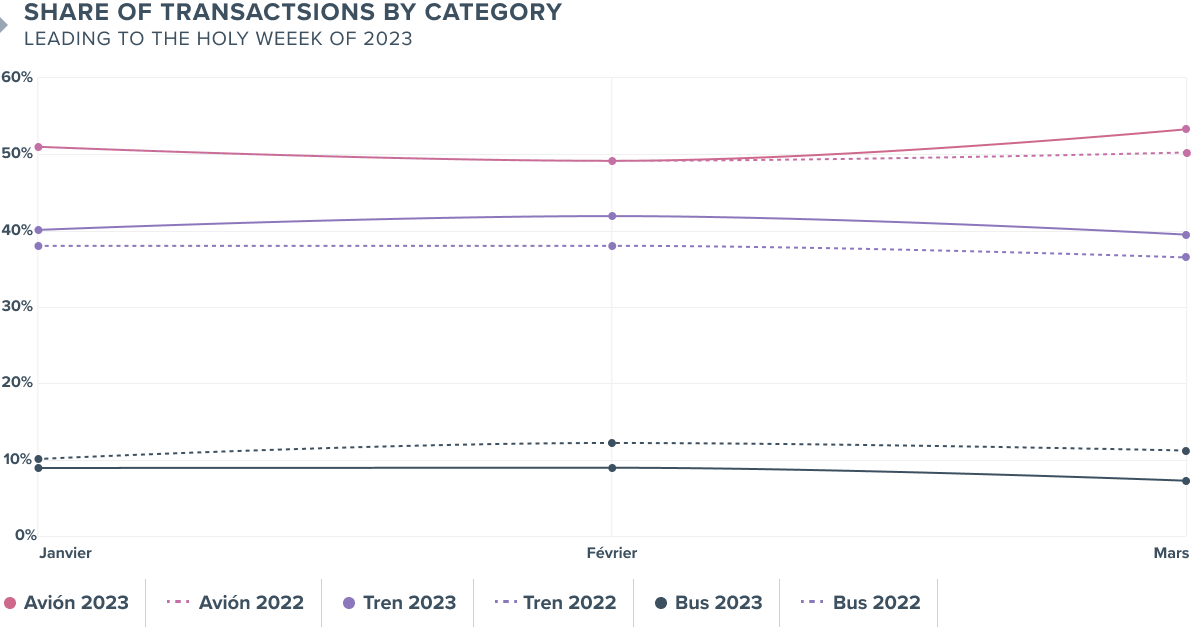 ---