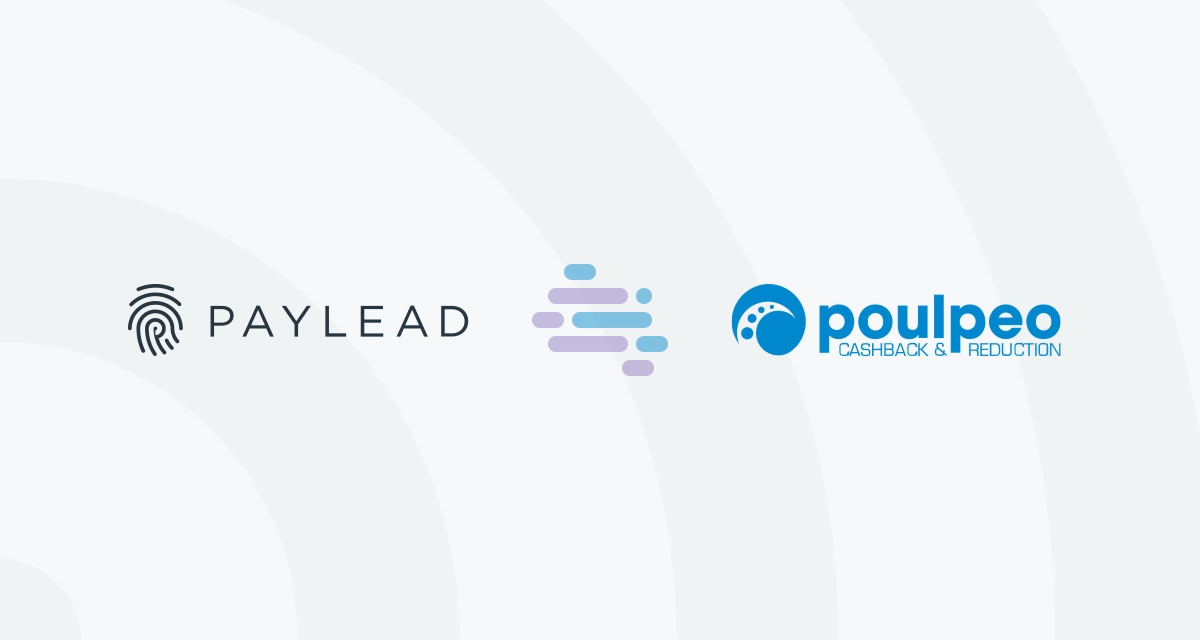 Poulpeo, the leading cashback company in France, selects PayLead's technology to operate its omni-channel programs
For a few months now, Poulpeo users have been enjoying cashback from nearly nine thousands physical shops in France. The service, which allows its users to benefit from a refund on a portion of their purchases in the form of cashback, has expanded its activities through a partnership with PayLead.
Reinventing the rules of cashback
The concept is simple and works fast. Poulpeo users just need to create a free account on website or App, and then to plug their credit card in. This takes a few seconds and they then instantly access all available offers across a large network of stores.
Say goodbye to printed coupons lying around, and prepare for a new, seamless online journey! From now on, after each purchase made with their credit card at checkout, customers receive a notification, and their cashback is automatically transferred to their Poulpeo account. All this, in just a few days, and without any action required on their end!
« It is this ultimate simplicity, which customers are rooting for today, which attracts a large part of our customer base », Thomas Sauzedde, CEO of Poulpeo, points out.
A cutting-edge technology to enhance the customer experience
To provide a seamless experience for their users, Poulpeo teamed up with PayLead, the leading Fintech in transactional data analysis and retail activation.
Indeed, PayLead has developed a technology which allows the company to manage this refund process from start to finish, by optimizing all the stages of the process:
Retrieving transactional data at the time of purchase
Analyzing the data
Calculating the amount of cashback owed
Managing merchants invoicing and payments flows end-to-end
"The core of our activity is the analysis of banking data, through our proprietary technology, and extensive data team. That grants us a pretty unique position on a market at the moment and tremendous scalability perspectives." says Charles de Gastines, CEO of PayLead, who also points out that "out of the 30 PayLead employees, only 5 of them are not tech or data profiles".
Poulpeo has already fully understood the importance of data in the reward marketing industry, and was therefore naturally drawn to build ties with PayLead. "When PayLead introduced us to their solution, we immediately saw the potential, and in less than two weeks, we decided to integrate it. Two months later, thanks to the efficiency of the teams on both sides and to the ease of integration of PayLead's technology, our customers were finally able to benefit from offline offers," explains Thomas Sauzedde.
The banking transaction information used to calculate the cashback programs is completely anonymous and secure, allowing customers to always be in control of their personal data.
The cashback industry is getting a makeover
For a few years now, players in the online cashback industry, which relies on the use of "cookies" lodged in their customers' browsers, have wanted to expand their activities to the realm of physical stores.
Until now, no viable solution had emerged. With the PSD2 regulation that have come into force 2019, which allows the sharing of banking data to third parties if users express their clear consent, things have changed and are accelerating. It is now possible to identify a purchase in a specific shop through the analysis of payment transactions.
PayLead seized this opportunity to offer a revolutionary approach to loyalty, which is "transaction-based" (calculated from banking transactions) as opposed to "cookie-based", and which eliminates silos between "online and offline" in retailers sales activation strategies This new marker of the purchasing act offers many advantages for the entire ecosystem:
It is reliable, no cashback is ever lost as it beats ad blockers and offers smart and transparent attribution rules
It is seamless for the customer. They just shop, and the rest is done for them
It offers unprecedented targeting possibilities and sales activation strategies available to retailers with limited effort
In a world where the future of the cookie is in the hands of GAFA players, who are less and less inclined to share their information, and where consumers are demanding more and more simplicity in their purchasing experiences, transaction-based has a bright future ahead of it.
"Given this context, it is easy to understand why, in less than a year, PayLead has already convinced two of the four players in the industry to adopt the transaction-based approach, in parallel with cookie based", Charles de Gastines says.
An international ambition for both players
PayLead and Poulpeo don't intend to stop there. The two partners' ambition is to offer more and more offers and purchasing power to consumers. To do so, PayLead, which has just completed a €6 million A-series, has set up a dedicated sales team for merchants. "In less than a year and with limited resources, we were able to attract the largest network of offline merchants in France. We are now building a strong team to partner with many more retailers in France and in Spain, we should be able to double the number of points of sale covered by the PayLead technology within the next 9 months", says Thomas Sevège, Chief Revenue Officer at PayLead As for Poulpeo, the company intends to allocate dedicated focus from a part of its sales team on the new offering to their customers that is powered by PayLead
Poulpeo belongs to the RetailMeNot group, the leader in digital promotions in the United States. The group, which has given the green light to launch this innovative partnership with PayLead in its French subsidiary, is closely following the evolution of its industry towards banking transactional data. A broader partnership could be considered, and thus bring great opportunities for both parties, in several other regions of the world.
---