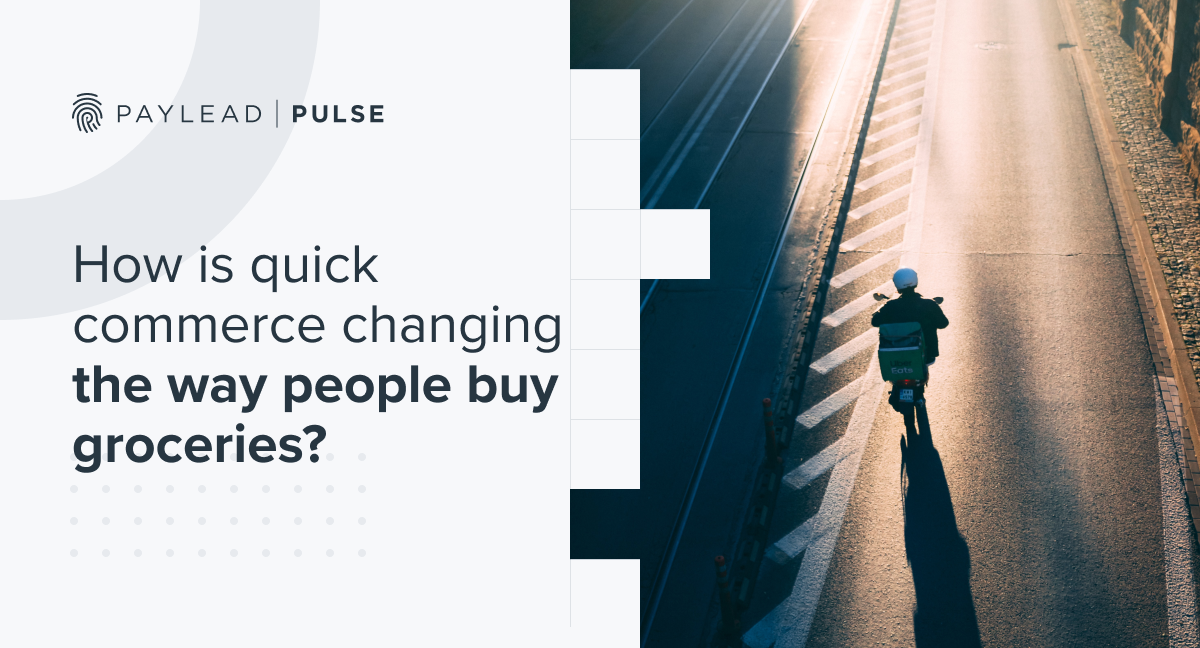 Quick Commerce: The growth may be quicker than the delivery
In this latest Pulse study we hone in on the changing nature of food consumption in Spain and see how the quick commerce trend has pushed newer and traditional players into the delivery space.
There have never been more channels to buy groceries or, more specifically, have them delivered. Consumers today can shop with familiar names like Dia or Mercadona online or jump on an app to get last-minute items from quick commerce players. As of late, food delivery apps including Uber Eats and Just Eat are also looking to get into the grocery delivery game and get their share of the market.
The only thing faster and more impressive than the 10-15 minute delivery time offered by Gorillas, Getir, and GoPuff, is the rate at which the industry is skyrocketing. The new sector registered a 45 percent compound growth rate in the last three months and is undoubtedly a consequence of the heavy promotional spending offered to new users.
While Gorillas may be the pioneer that bucked the trend for many markets, Getir has been the player gaining the most traction as of late. The dominance in the number of sales seen in January from Getir is something to ogle over. The yellow and purple delivery player had more than 3x as many sales as Gorillas and improved on that trend in February with nearly 4x more.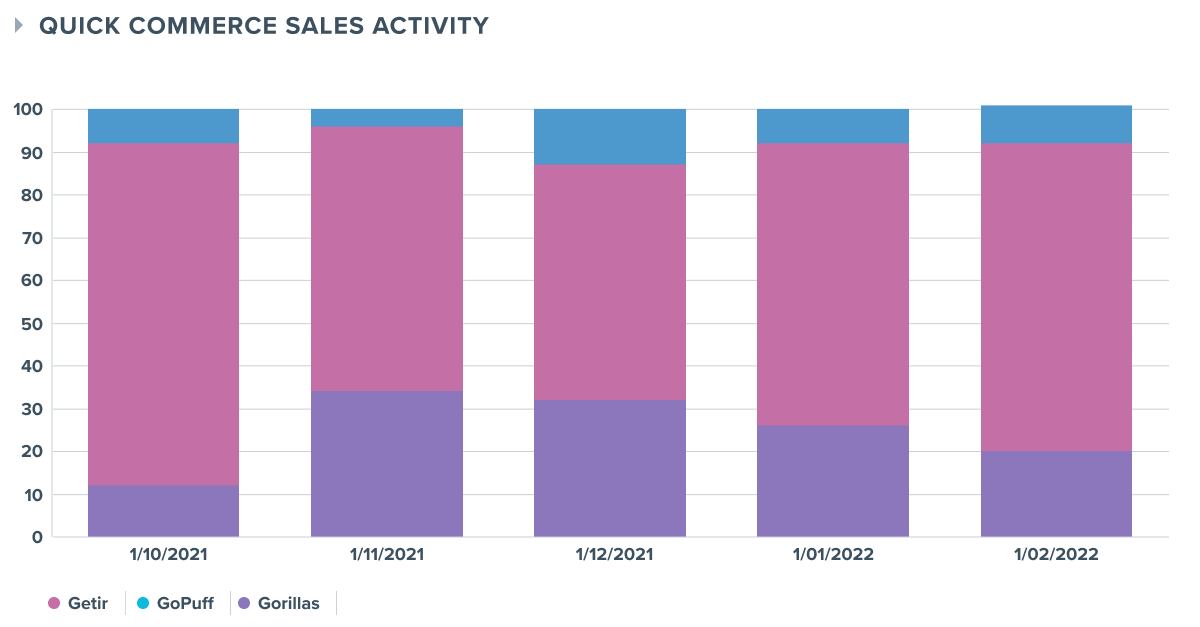 Price is the main factor driving Getir's growth. The average basket in the industry has floated around €12 in the last five months, but Getir specifically has seen average baskets fluctuate between €6-€8, which is roughly 50 percent below the industry average.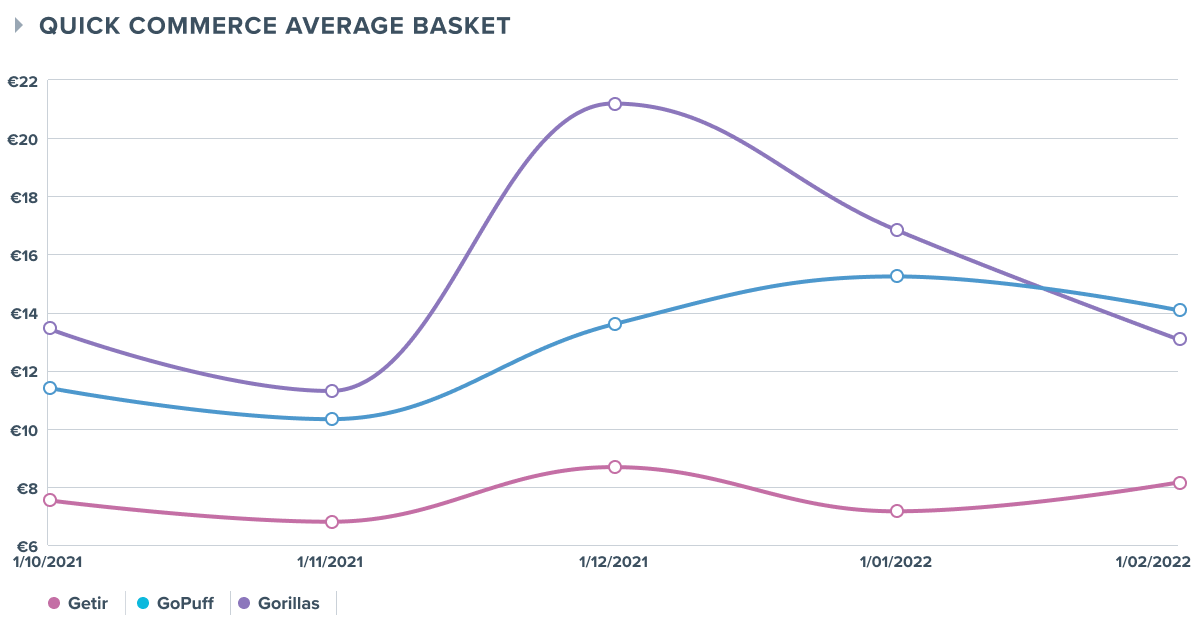 Competing on price is a tactic that quick commerce services have used and continue to use to gain market share, but how will these services fare as more established and familiar names, including Uber Eats and Glovo start focusing their efforts on grocery delivery?
As seen in the latest partnership between Just Eat and Gorillas, some brands have decided to join forces to provide prompt delivery of grocery items and necessities. With access to quick commerce services made more widely available in applications with more users, such as Just Eat, the market will start to encounter new acquisition challenges as more services begin to fight for the same customers.

Closely tied food delivery sector sees a clear leader in Q1

Glovo, the sector leader fresh off being acquired by Delivery Hero, took a commanding share of the market at the top of the year bringing in 50% of food delivery sales for February. Across the board, Glovo managed to come out on top, seeing 3x as many sales, nearly twice as many customers, and a slightly higher average basket per order than Uber Eats.
The spending habits of food delivery clients willing to try quick commerce apps show just how valuable these customers are. An exciting finding shows food delivery clients who also make quick commerce purchases spend 20 percent more on food delivery apps like Uber Eats, Just Eat, or Glovo, thus highlighting the propensity of digital omnichannel shoppers to spend more.

Online grocery stores lag behind competing digital food sales channels

When looking at the different food sales channels where Spaniards make purchases, it's no surprise that in-store grocery stores like Mercadona, Lidl, and Carrefour are still the most popular. Of the other three categories of shoppers, online grocery, food delivery, and quick commerce, 99%, 89%, and 93%, respectively, have purchased in-store.
However, dedicated online sales channels from leading supermarkets are not as widely adopted as food delivery or quick commerce applications. Of the customers from the other three sales channels (instore, food delivery, and quick commerce) respectively, only five, six, and nine percent of these clients have also purchased with an online grocery store in the last five months.
Another standout statistic we can see when analyzing where consumers made purchases in the last three months is the ground that quick commerce applications still need to make up in consumer adoption despite their incredible growth. Only seven percent of shoppers who buy groceries in supermarkets used a quick commerce service. The numbers get better when we look at digital consumers. However, of the online grocery shoppers and food delivery consumers used in our study, only twelve percent have made a quick commerce purchase.
---
Methodology

The data in this article is based on the analysis of card purchases made in Spain at the brands studied between 01/10/2021 and 28/02/2022. Sample of the analysis = 2855 unique Top of Wallet users
They are anonymized and is sourced from the "main" purchase cards of consumers registered on our partners' programs (banks, fintechs, insurance companies and rewards programs).
---
Interested in learning more about unlocking customer insights with payment data, and meeting your business objectives with Payment Marketing? ​ Schedule a call
---