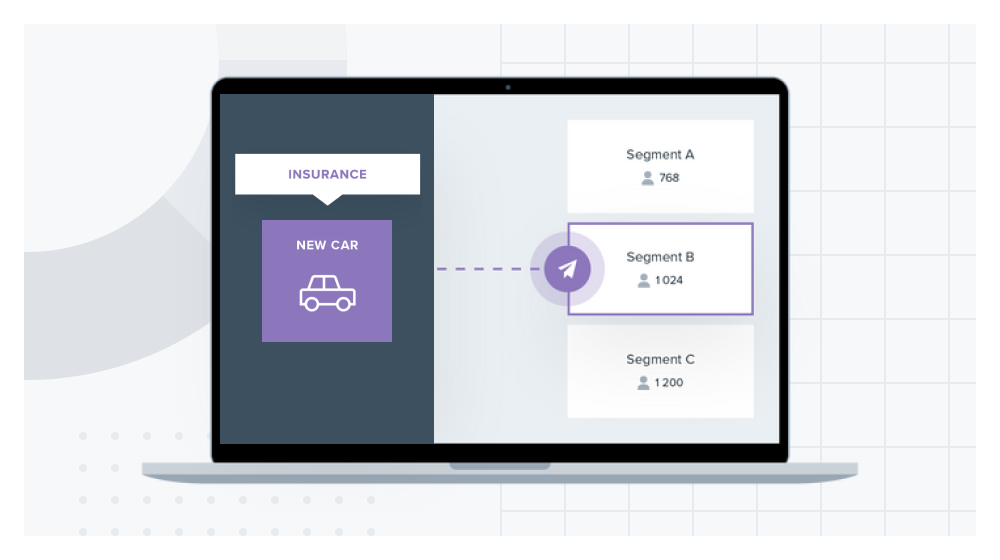 How payment data fuels accounts-based marketing for banks
Tailoring your marketing to different consumer banking segments has never been more important and possible in today's world of Accounts-Based Marketing (ABM).
Finding the right moment and using personalized content to sell banking products should be done using bank data that can identify the right products and moments to strike a sale. Automating the process to identify, target, and commence outreach with your high-value customers streamlines sales and ensures customers receive hyper-relevant product offers when they need them most.
Accounts-based marketing is nothing new, but automating its use in banks with open banking applications and APIs to unlock consumer data is another innovation that Payment Marketing has brought to the spotlight. Marketers and sales teams now have the necessary tools and data to pinpoint customers and serve them with personalized offers to increase their revenues.
Let's take a closer look at how to put the system in place and some concrete examples of how payment data can be accessed by bringing more value to banking clients.
What is Accounts Based-Marketing, and how can it be applied in banking?

There are many ways to define account-based marketing but the plain and simple definition of the term is:
a marketing strategy that uses highly personalized marketing and sales materials for different customer segments.
As simple and straightforward as it seems, its application calls for a high level of coordination and use of resources from the marketing and sales departments to bring this strategy to life.
Before sending tailored marketing content to each segment, you'll have to define them, and start prospecting or put in place an automated system that can identify targets and sort them accordingly. We're almost certain that you are more interested in the latter.
Automating identification of your existing clients can be done by using their purchase behaviors and bank data. After defining events and triggers, prospects can be categorized according to your unique segmentation and subsequently be placed in the right marketing and sales funnel.
One such application we have crafted specifically for this situation is our Life Events feature, so banks can select triggers to identify leads among existing clients and market products they clearly need or are in the market for. Once identified personalized marketing material for different segments of customers can be used to bring a tailored approach to your outreach.
PayLead uses a set of positive and negative criteria that we call recipes that distinguish targets by segment. These leads can then be plugged into marketing software like Salesforce, with an API or CSV, to commence marketing and sales efforts.
How can I leverage Open Banking to start fuelling an ABM strategy?

Accessing the data is the first step to leveraging Payment Marketing. From a merchant perspective, publishing networks, such as PayLead's and a host of other Payment Marketing audiences are being established and allowing them to target consumers with promotional offers.

However, banks and consumer fintechs are the gateways to the banking and payment data available to merchants. Finding a service or product that brings value to banking clients and retrieves the informed consent of users is the key to bringing this data to retail advertisers and harnessing its insights to find sales opportunities for banks.

Reward programs have been used successfully to get consent from users but other services and products that need access to banking and payment data have been implemented to great effect, such as budgeting services, expense optimization assistants, investment services or green-friendly purchase suggestions. The list of applications goes on, but the objective is clear, find services that bring convenience and value to your customers which need their permission to access data in order to function.

Reward programs that use an ALO system are best positioned to profit from an ABM strategy as they gather a holistic view of a consumer's financial life. On top of the payment data recovered from bank cards, ALO programs can also gather data from bank transfers and account aggregation to complement payments with top of wallet cards.
When paired with an ALO program, ABM strategies can be turbocharged with varying types of bank data that give real insights into a user's financial life. Whether it be a noticeable increase in monthly salary or a new monthly car payment, this data can be used to segment users and define the personalized content they will receive. In these cases, users could be offered products such as car insurance rate or a competitive mortgage with a monthly payment that falls in line with their recent increase in salary.
Crafting your privacy policy for ABM

To perform high-level account-based marketing with banking data, the types of data and legitimate purposes to treat, store and access such data must be explicitly stated in the privacy policy accepted by users. Activities such as extracting data, analyzing it, and using it to personalize services among other uses must be detailed and accounted for by one of the six legal grounds stipulated by GDPR. When banks collaborate with or licence outside solutions, such as PayLead's, a second privacy policy that specifies the data they can access and their legitimate purposes for processing it must be accepted by the user as well.
Building bonds with accounts-based marketing

Accompanying your customers along their financial journey is the top priority for every bank. Being able to talk to each client with a personalized flow of content will help build the trust they need before making important financial decisions. With the use of banking data and Payment Marketing, financial institutions can start bringing these sales opportunities to light and approach each of their clients with the personal touch every bank customer appreciates.
---
Interested in learning more about our white label loyalty solution, creating great customer experiences, and growing your business with PayLead? ​ Schedule a call
---